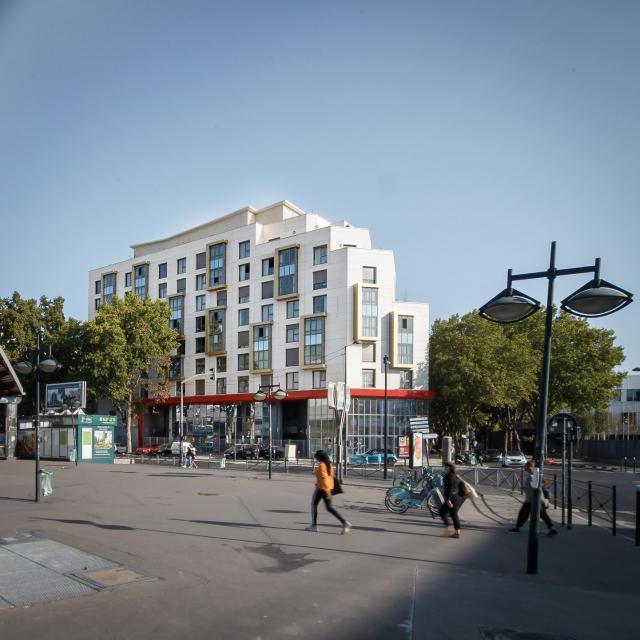 St Denis
A former car repair garage transformed into a contemporary student hall of residence right next to the metro station and opposite the University of Paris 8: a 360° project successfully completed without compromising the heritage of the site.  
Location
Saint Denis / 93
Product(s)
Student residence
Market value
18 300 000€ / 4 665€ / m²
Investment horizon
10 years
Architect
Jacques Soucheyre
Fixed lease duration
12 years
Today, it's impossible to believe that a few years ago, this uniquely located site opposite the University of Paris 8 right next to the metro station was occupied by a car repair garage. But it certainly wasn't an impossible task for our teams (!), and today its potentially incongruous, yet amazing, façade and a wall that street artists transformed into a giant fresco make the new building a place that simply can't help stopping us in our stride. The days of dented and damaged cars coming and going are long gone! From its generous corridors to its communal areas, and from the sports hall to the terraces where some fuss over their tomato plants, more than 170 students now enjoy life in this residence, which has been fully occupied since it opened in September 2019. To enable the building designed by architect Jacques Soucheyre to rise from the ground, we were able to successfully demonstrate our ability to meet the needs of a region with a serious shortfall in student housing by securing the cooperation of the previous occupant as he wound down his business, providing the design and build expertise, and providing property management services for the finished building. A genuinely 360° project that remains in our portfolio!
Our signature on this project:
The purchase of the car repair garage that previously occupied this site (and the provision of support as the business was being wound down) to create a student hall of residence with direct access to the university opposite, a project that meets the expectations of the area and the (willing!) refusal to cut corners and costs to ensure that the finished development would boast high-quality architecture and services. And all opposite the Saint-Denis-University (Line 13) metro station and the University of Paris 8.