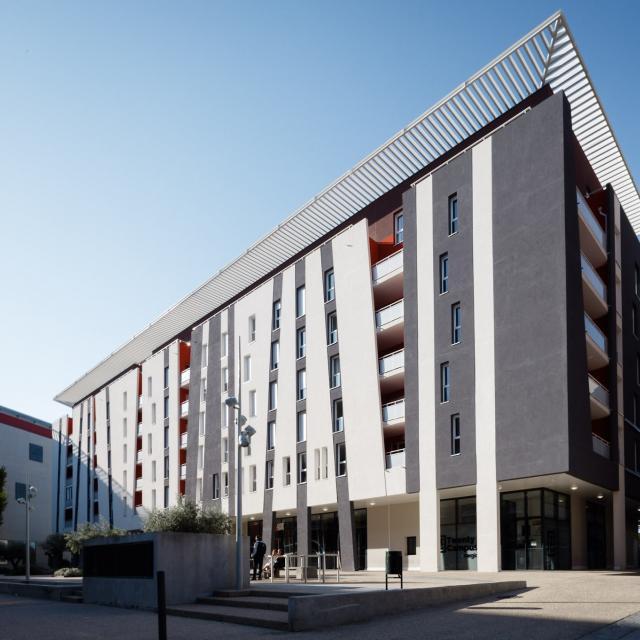 Nîmes
This student hall of residence in central Nîmes manages to be simultaneously contemporary and aesthetic: a flagship project for the city, and one that we have successfully delivered with the long-term perspective that provides the option for the building to revert to housing if the lease is not renewed.
Product(s)
Student residence
Market value
10 900 000€ / 2 194€ / m²
Investment horizon
10 years
Architect
Hervé Le Stum et Bruno Chabrol
Fixed lease duration
12 years
With its avenue of plane trees leading to the city's famous arenas, the Avenue Feuchères is the first road many visitors see as they leave Nîmes railway station. This local Champs-Élysées now has a pedestrian-only extension to the south side of the station, where a new community has come together. With new homes, shops, cinema and nearby Rue de la soif (the local nickname for the Rue Fresque and its many bars), the Avenue de la Méditerranée has certainly established itself as one of the city's 'places to be'. It is there, in the fast-beating heart of the city, that we committed ourselves (without an operator and with the intention of supporting the developer who had just begun the project) to invest in what is now the hall of residence that all the university's students are fighting to get into. So, under the terms of an 11-year lease, we have given life to our own long-term asset policy with a building that shares this community's mix of the contemporary and the aesthetic. Ours is also a long-term investment, because we have built in the option to revert the building to private housing if the lease is not renewed, at which point we can potentially convert the student rooms for resale as studio flats.
Our signature on this project:
Our role has been to enable the start of work on a project in urgent need of an investor. A business opportunity that dovetails with an annually depreciated long-term asset.