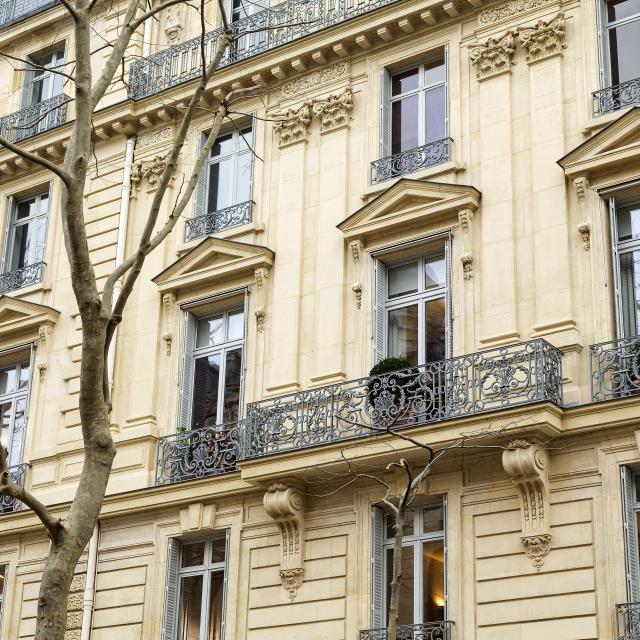 Paris-Messine
Creating one of the most beautiful head office buildings in Paris was the challenge we accepted with this unusual renovation project for one of our exceptional clients.
Market value
15 200 000€ / 18 650€ / m²
Investment horizon
10 years
Fixed lease duration
10 years
The tranquil atmosphere of the Parc Monceau, the head office of Banque Rothschild, the nearby foreign embassies, and the Galerie Lelong with its work by contemporary artists who needs no introduction: there can be little doubt that we are in the heart of the capital's famous business centre. It was in 2010 that we acquired two floors of the prestigious Haussmann-style building at 30 Avenue de Messine, with the ambition of creating one of the most outstanding head offices in Paris for a holding company with a very demanding specification. Guided by interior architect Pascal Allaman, the two spaces were linked by a central atrium: Beneath the high and richly decorated ceilings, there are now 14 offices and open workspaces, three meeting rooms, a company restaurant and a sports hall in a setting where visitors are welcomed with exceptional works of art. Boasting services worthy of the most upscale of luxury hotels, this upgrade project also features bespoke furniture, state-of-the-art automation and the use of other precious and (very) high-end materials. An extraordinary project for an exceptional client. 
Our signature on this project:
The ability to adapt to the demanding specification of a company with ambitions to create a working environment like no other in the French capital, and the skill to transform classic Haussmann-style accommodation into 5-star office space.