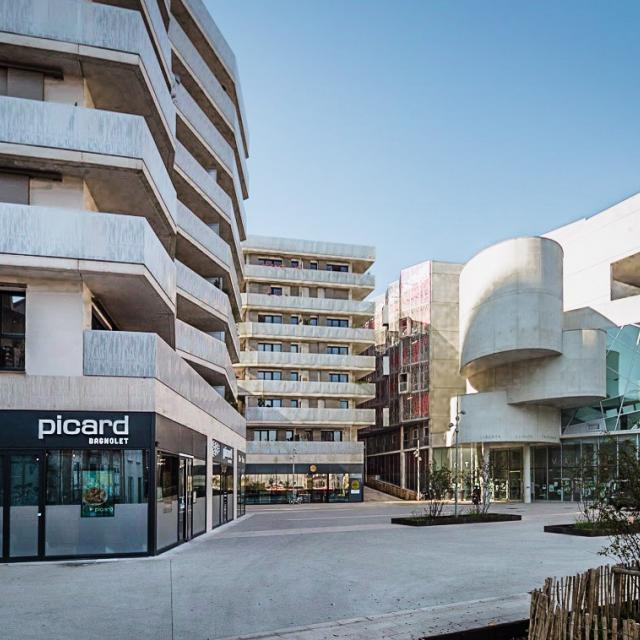 Bagnolet
What is the best way of exploiting the full potential of a town centre? By bringing in national brands to create a high-quality shopping centre and boost the appeal of the entire town. A superb success for our teams, who have successfully breathed new life into Bagnolet!
Rental income
1 100 000€ / 243€ / m²
Market value
22 100 000€ / 4 884€ / m²
Tenant(s)
Lidl, Picard, Basic Fit, Optical Center,..
Sometimes developers have to cope with the financial failure of an investor. That sentence rather sums up the role we played in November 2017 when an investor withdrew from the project, leaving their partner in an embarrassing position on a site in central Bagnolet. But there were upsides to that position as well, not the least of which was the ideal project location right opposite the town hall and market square, presenting the opportunity to bring in national brands to a town that sadly lacked a high-quality shopping centre, and therefore - at last! - to fully exploit the potential of the town centre. So what was the result? Every retail unit has been let, and the entire area is now one of the most dynamic and attractive, with more than ten big names - including Lidl, Basic-Fit, Optical Center and Picard - and a 200-space car park. A superb example of how to successfully relaunch a project whose high profile has boosted the appeal of the entire town!
Our signature on this project:
Giving a new lease of life to a project whose developer needed help urgently, and at the same time, creating a high-quality shopping centre for a town that really needed one.