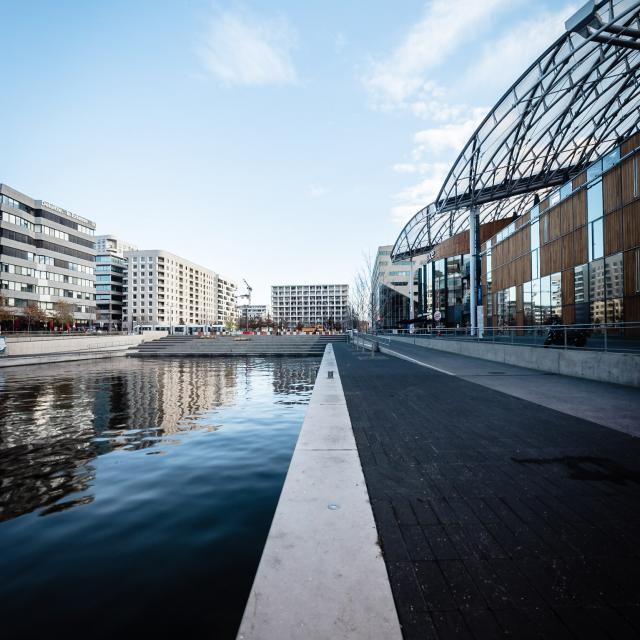 Lyon-Charlemagne
Convinced of the potential of the 'Confluence' urban regeneration project in Lyon, we acquired - off-plan - a 3,000 m² office building by Herzog & de Meuron... which is now fully let.
Location
Lyon-Charlemagne / 69
Rental income
422 000€/ 273€ / m²
Market value
7 080 000€/ 4 585€ / m²
Investment horizon
10 years
'Confluence' is THE flagship urban development project in the former capital of the Gauls. Designed to reflect the way we live today, and structured around a shopping centre, the scheme extends from leisure to luxury homes. It is here in this 'new Lyon' that we were able to acquire an office building by Herzog & de Meuron. These are the reasons why we were interested in this 3,000 m² building finished in exposed rough concrete: seven upper floors divisible into 14 units configured to provide local businesses with accommodation boasting 21st century standards, from acoustic and thermal insulation to refined aesthetics. Acquired off-plan, the building is now fully let to ten Lyon-based companies.
A great dynamic that encouraged us to invest once again in this neighbourhood in the making, on the Cours Charlemagne, with the acquisition of 1,542 sq.m of retail space. They are now occupied by restaurants with terraces (Bistro Régent, My Beers, ConfluTime), big names such as KparK and La Vie Claire, and a small nursery. All of them are taking advantage of the boom of this new place to be in Lyon, which is increasingly popular with locals!